GCX Expansion of Patient Engagement Solutions on Display at HIMSS19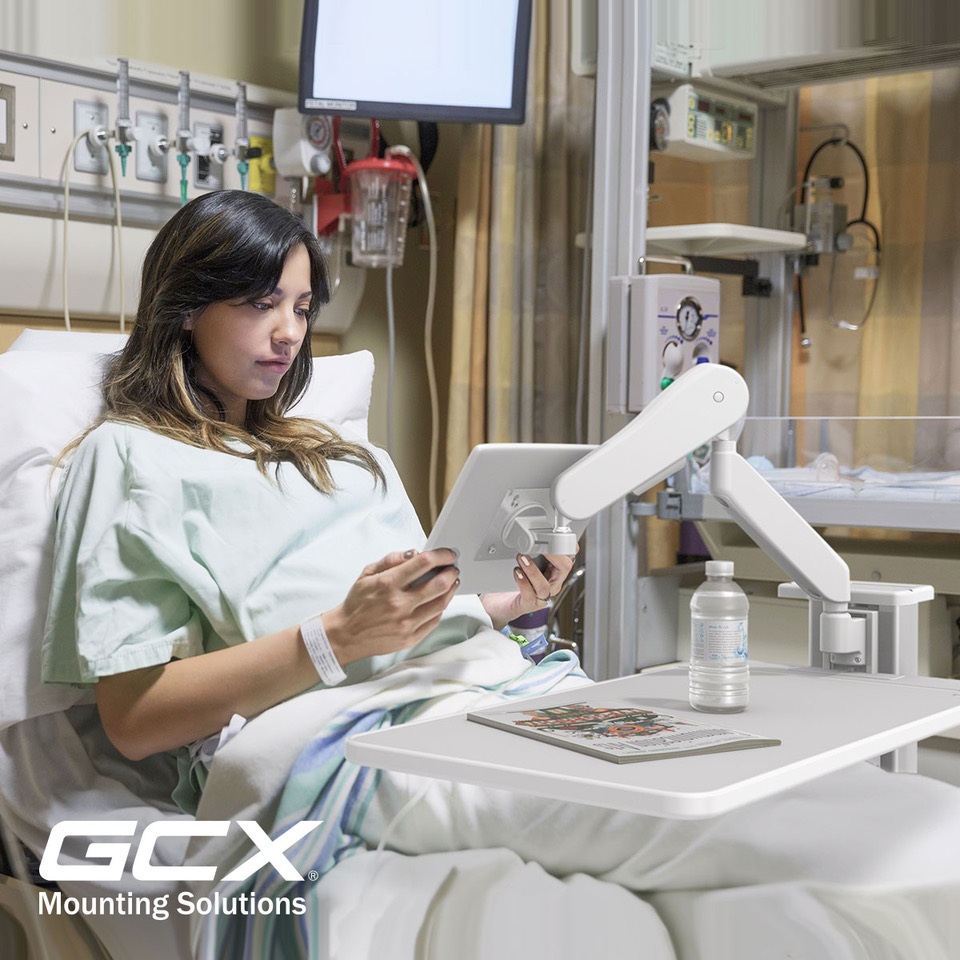 Patient engagement remains a high priority for healthcare organizations that want to reduce readmissions and improve patient outcomes key to today's value-based care. Our company has responded to this need with several innovative mounting solutions that encourage hospitalized patients to safely use mobile applications on tablets. Using tablets loaded with appropriate applications helps patients easily and conveniently engage with both their communities and their care teams while undergoing treatments.
Next month providers will get a chance to see our expanded line of patient engagement solutions, as well as other GCX products, at HIMSS19. We'll again be among the exhibitors and expert resources for the nation's premiere healthcare IT conference being held Feb. 11-15 at the Orlando Convention Center in central Florida.
As an official conference sponsor, we're excited to support healthcare IT practitioners who come to the conference to learn how to solve some of the industry's biggest issues and continue providing exceptional healthcare to each and every patient.
This year we'll be highlighting our updated Patient Engagement Table as well our our growing line of adjustable mounting arms that now includes the VHM-T to help patients more easily use tablets. Among these innovative products are:
The new VHM-T is the only medical-grade variable height support arm specifically designed for tablet-sized devices. Designed to operate smoothly at any viewing angle, this new arm also has all-internal cable management for safer use and a clean, professional look.
The latest Patient Engagement Table now includes new medical-grade material and a new arm that accommodates most popular tablet devices so patients can conveniently use tablets from bed or a chair. This popular GCX table, which won a major product innovation in 2018, allows patients and their families to more easily and securely use most popular tablets to stay informed and entertained while hospitalized.
Our Fetal Monitoring Workstation also has been updated since last year's show to include more storage options, greater ergonomic computer use, an expanded line of finishes and small but powerful lighting to allow night-time charting without disturbing sleeping patients.
The VHM-P™ and VHM-PL™ will also be on display. The GCX adjustable mounting arms provide significant advances in cable management, precision movement, cleanability, durability and load capacity. The VHM-PL includes a locking handle that provides quick and safe, one-handed vertical repositioning of the mounted device without interrupting workflow.
These are just some of the mounting solutions we will be displaying at Booth #2001.