Meeting Today's L&D Nursing Needs at AHWONN 2019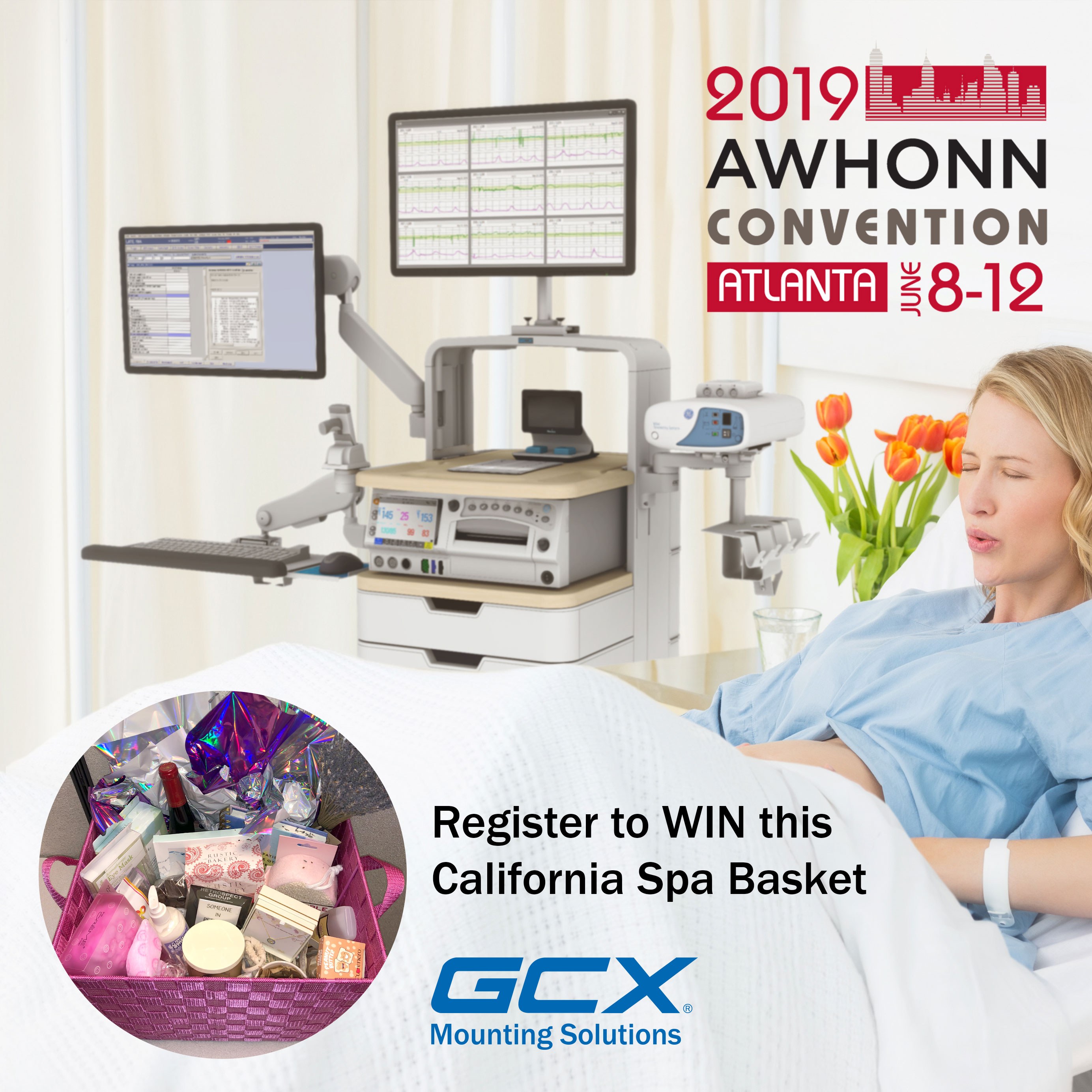 We love getting feedback on our mounting solutions whenever we attend a trade show. Attendees share the day-to-day issues they face when accessing and using technology in their own L&D areas, and it always generates ideas.
It's one reason everyone at GCX is excited to again participate in the AHWONN Annual Convention taking place June 8 through 12 at Atlanta's World Congress Center. We encourage AHWONN members and other women's health professionals to stop by Booth #923, where we'll field questions and showcase solutions for the L&D suite, including our newly updated Fetal Monitoring Workstation, which now features a pull-out keyboard option.
We understand that space is getting tighter in typical maternity rooms, so our compact Fetal Monitoring Workstation provides room for everything L&D nurses need to monitor, maneuver and chart at the bedside. The customizable cart includes:
A new pullout keyboard that expands or retracts as needed.
A work surface that gives clinicians space to prepare meds, hold additional supplies such as gel bottles, pens and tocos.
More positioning options so nurses, physicians and clinicians can easily access equipment or read results with patients on the fetal monitor screen.
Dimmable work surface lights that do not disturb resting moms.
Drawers located just below a fetal monitor for quicker access to supplies.
Adjustable drawer compartments to keep supplies organized.
More ergonomic computer workstation positioning options to accommodate different-height users when standing or sitting.
Added storage on the base to hide more computer equipment.
Additional wood-like surface options so delivery rooms feel homier.
In addition to the Fetal Monitoring Workstation, we'll be displaying our award-winning Patient Engagement Table, which now comes in a smaller version, and our VHM-P and VHM-PL, variable height mounts that make accessing information easy and safe.
We look forward to seeing everyone at the 2019 AHWONN Convention in June. Swing by Booth #923 and speak to one of our knowledgeable representatives about how GCX can help you maximize your space and streamline your workflow. While you're there, be sure to enter the raffle for a California Spa Basket, valued at more than $200. We look forward to seeing everyone at the 2019 AHWONN Convention in June!