Virtual Demos a Hit with Hospitals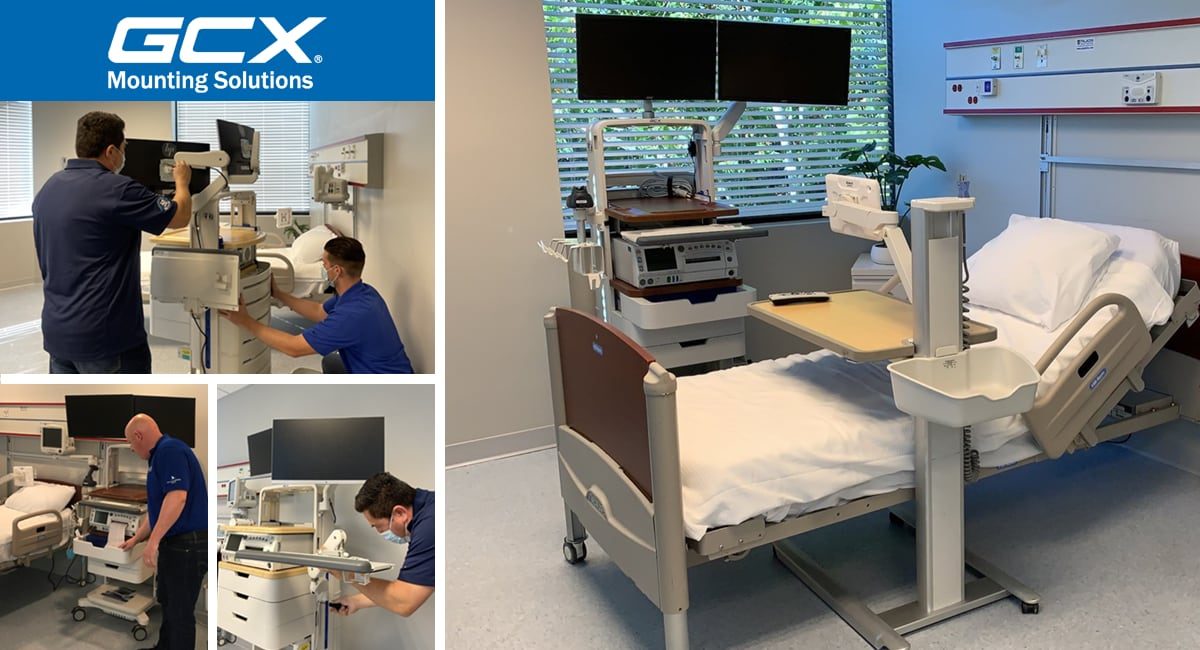 While it's important to see how a medical device or IT equipment mount works within a room's unique configuration, it no longer requires an on-site demonstration. For the past six months, GCX product experts have conducted virtual demos in our new mock room that can mimic the same setup as a specific care area within a hospital.
Our 400-square-foot room resembles a more modern hospital room size; we can always reduce the square footage for those trying to outfit smaller spaces or specific care areas. A Labor & Delivery room mockup, for instance, could be outfitted with patient beds; headwall or floor mounts; IV roll stands, flat panel mount; and fetal monitoring workstation.
One aspect that differs from other virtual demos is our ability to replicate a customer's care area. We have a large inventory of GCX and OEM devices and mounts that we can use to set up the room as it appears at the hospital.
Because we can set up a room to resemble a customer's configuration, our virtual demos have been a big hit with hospitals. Healthcare stakeholders enjoy:
Time saved by meeting with a GCX mounting expert online.
Convenience of viewing a live or recorded product demo from anywhere in a facility (or home office) with internet access.
Shareability of recorded demos for a broader group of users, some of whom may not be available during the live event.
Space that isn't taken up in a conference room or patient room on site.
Minimal disruptions that might otherwise compromise patient care.
The mock room was inspired by the ongoing pandemic, but it's application will last much longer. The feedback since we began doing virtual demos with our own GCX mock patient room has been fantastic. People seem to especially appreciate fewer distractions and the ease of getting all key stakeholders together for a 15- to 20-minute video conference from any location. They don't have to imagine what a product would look like in their own facility; our GCX mockup room takes the guesswork out of it.
If you'd like to set up a virtual demo, please contact us at (800) 228-2555 or go to https://www.gcx.com/landing/de... to learn more about our virtual demos.