Perioperative Infection Control: How Clean is Your OR?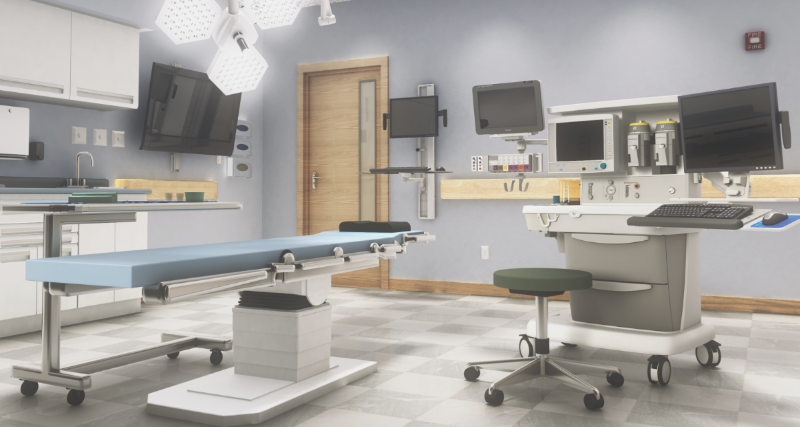 Healthcare providers understand the importance of reducing the spread of germs in care areas through rigorous sanitation regimens. Medical Manufacturers must fully understand the role their products can play in infection control.
Perioperative care areas are an excellent example of why it's important that all equipment suppliers, including those providing mounts, understand the challenges of healthcare environments. Patient rooms must be sanitized multiple times a day. If equipment is not built to withstand medical-grade daily sanitation, the cleaning agents can degrade materials. The equipment itself can also serve as a germ vector if its construction creates hard-to-reach crevices that could harbor harmful microorganisms.
Whether a patient is being prepared for surgery, undergoing a procedure, or recovering post-op, these areas must be as germ-free as possible without compromising equipment usage or patient care.
As such, hospitals should evaluate mounts and anesthesia workstations within their surgical suites for the following:
Cable Management: In addition to a physical safety issue, minimizing the number of exposed cords through cable management reduces the risks of germs spreading. Several GCX mounts are designed to enclose cables within the arm.
Durability and Cleanability: A good arm-mounting solution should last at least five years or more with routine hospital use. Is your mounting equipment made of medical-grade materials? GCX solutions are manufactured under rigorous quality standards and undergo extensive chemical compatibility testing to ensure long-lasting equipment.
Safety: Are your current perioperative equipment mounts sturdy and stable? GCX can provide workstation mockups to verify compliance with industry benchmarks, such as the IEC 60601-1 safety standard.
Cable management, durability, cleanability, and safety will go a long way in improving infection control for patients undergoing elective or emergency surgeries. These important functions should be among the prime considerations when choosing the correct mount for perioperative care areas, as well as comfortable equipment access and positioning by multiple users.
You can learn more about how GCX products are built to minimize the spread of harmful microorganisms by visiting https://www.gcx.com/solutions/....