Modernizing Maternity Care with Multi-functioning Fetal Monitoring Carts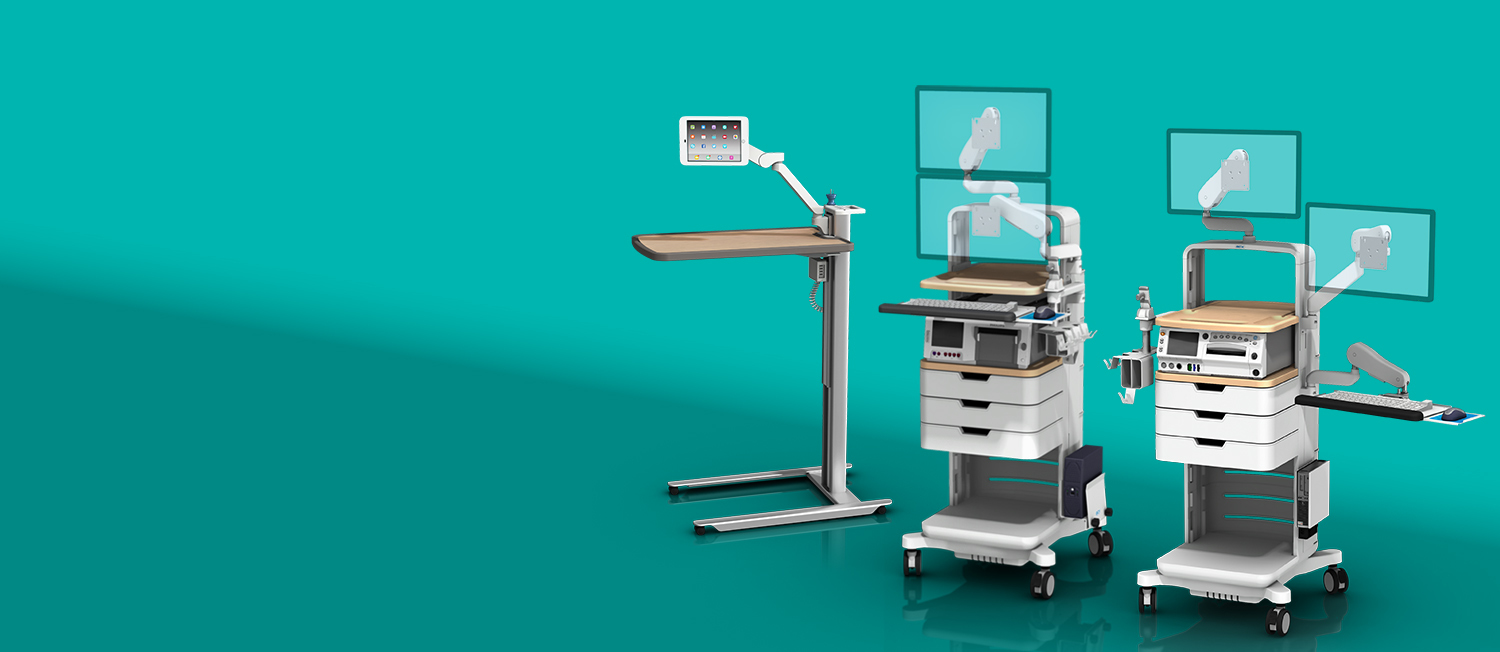 Our GCX fetal monitoring workstation is showing up in more Labor and Delivery (L&D) units as hospitals modernize both the space and experience for patients and expecting mothers.
Today's new parents appreciate and expect the streamlined look of integrated technology. Our fetal monitoring cart accommodates the necessary equipment and is easily adjusted for users of varying heights. It is designed to quietly move within rooms or floors without disturbing sleeping patients.
Administrators want to be sure their facilities pass ongoing audits and inspections for infection control. Payers such as Medicare and Medicaid rely on these inspections for assurance their patients receive safe and effective treatments. That's just one reason hospitals are turning to us to replace older wooden carts with our medical grade fetal monitoring workstations.
Our GCX fetal monitoring workstations come in several wood-like finishes but are made of medical-grade materials that hold up much better to cleaning agents used often in healthcare settings. The construction and design provide a higher degree of infection control, which is important where at-risk moms and newborns require germ-free environments.
Among the best-selling cart's features:
Versatile, ergonomic work surfaces and optional pull-out keyboard for easier notetaking.
Readily available storage options for your needs, including gel bottles, barcode scanners, printers, wireless transducers, and power management hardware.
A contemporary design and numerous finish options so the carts look less "clinical," elevating a room's aesthetics to look and feel more comfortable to patients and their families.
Advanced cable management to conceal cables for safety, cleanability, and infection control.
Rear ventilation system constructed to keep monitors from overheating.
Dimmable lights for night charting allow mothers and newborns to rest undisturbed.
We not only provide solutions to support L&D suites, but we also offer our On-Site Services (OSS) to help healthcare organizations maintain a high level of patient care without wasting valuable time. This is especially valuable when a hospital or team is short-staffed. In one of our most recent installations in northern California, our OSS team arrived on site only to find out the hospital's biomedical and facilities staffs were on strike. This left only one employee – transplanted from another department – to help coordinate. However, GCX's OSS program prides itself on needing minimal instruction or assistance and was able to complete the job on time despite the lack of contacts and other staff.
The GCX OSS team used a hospital warehouse room to build out 14 fetal monitoring carts and place them in rooms as patients were discharged. It took our crew less than two days to properly assemble, deploy, and dispose of all packaging. Allowing our OSS teams to handle installations leaves biomedical, IT, and clinical teams more time for other important tasks.
If you're ready to modernize your L&D ward, contact GCX to go over options that will improve clinical workflows and the patient experience.