Fulfilling a Clinical Need: A Medical-Grade Support Arm for a Tablet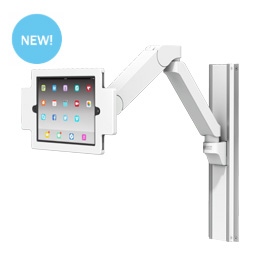 Since GCX's foray into patient engagement projects officially launched some three years ago, we've been listening to how we can best help our customers fulfill a growing need with our mounting solutions. Tablets, such as the iPad, are now the device of choice due to compatibility, cost and general user familiarity. One of the many lessons we learned from these discussions is that though the tablet may be a consumer-grade device, the mounting solution used to integrate the tablet for patient or visitor use must be medical grade to work in today's complex healthcare environments.
One important component of the solution that positions the tablet for patient use is the adjustable support arm that holds it. A good portion of our patient tablet projects have involved our over-bed Patient Engagement Table. It essentially leverages the ubiquitous over-bed tables present in patient rooms with an arm for a tablet, as well as ancillary devices and a charging station. The support arm must allow easy access to the tablet and readily position it for use in bed (sitting, inclined or supine) or in a chair adjacent to the bed – basically, wherever the patient or perhaps visitor would prefer to locate.
We successfully deployed many tables utilizing a modified version of our VHM-25 variable height arm. For context, the VHM-25 arm was originally designed as a smaller scale, medical-grade arm for use with smaller, lighter-weight patient monitors and healthcare IT-related hardware. The key word is "modified" – the more we learned about this new application, and the pros and cons of having a tablet bedside, the more we made modifications to deal with the various challenges. Those include:
Cable management: Cables must be concealed to prevent tampering, improve cleanability and enhance aesthetic appearance.
Range of motion: The various adjustment points on the arm need to be enough, but not too much.
Tablet weight: Tablets average about 1 lb. in weight and normally not more than 3 lbs. even in a mountable enclosure
Tablet size: By definition, tablets are thin, sleek devices.
Cost: Pricing of the patient monitor mounting must be appropriate to the tablet application.
Durability and safety: A given – our 45+ years' experience has been with trained clinicians accessing mounted devices.
Cleaning and infection control: Always a fundamental concern especially in close proximity with patients and visitors.
In early 2017, we set out to design a variable height arm for tablets that would meet the "medical-grade" standard we set for all GCX mounting solutions. That solution is the VHM-T Variable Height Arm for tablets, which is available this summer. This unique arm meets or exceeds the above referenced challenges.
Cable management: We conceal the cables entirely without unduly impacting the installation process or the need for service.
Range of motion: The new arm can accommodate the known use positions and not present challenges such as internal cable wind-up due to excessive range of motion at any point of adjustment. Additionally, the arm easily moves into position and stays without the need for pre-installation settings or maintenance.
Tablet weight: We decided a maximum weight of 6 lbs. was sufficient to handle both known and anticipated tablets – technology is generally helping trim device weight.
Tablet size: The scale of the arm complements the device mounted.
Cost: We want to be close in price to "commercial-grade" arms for tablets yet be "medical-grade" to set the bar high in the market.
Durability and safety: The new arm is designed/tested to IEC60601-1 3rd Edition criteria, including cycle and load testing. Essentially, it is small enough, cost-effective and durable. It also carries our standard five-year warranty.
Cleaning: We use materials that will withstand all the known cleaning agents used in healthcare facilities as cleaning for infection control will be frequent.
The VHM-T Variable Height Arm for tablets is truly a GCX product and a worthy addition to our family of variable height arms. If you'd like to learn more about our new arm for tablets, please contact us at 800-228-2555.