Configuring Anesthesia Workstations for Safe, Long-Term Usage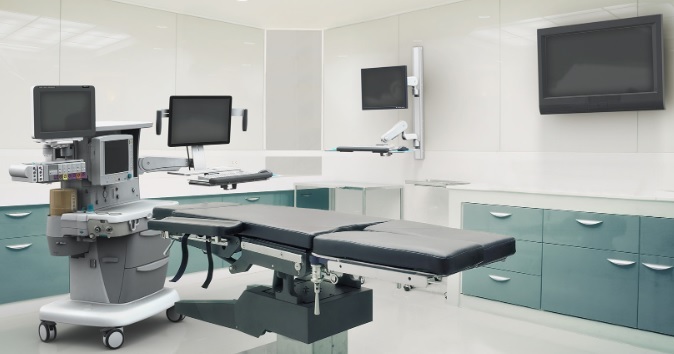 Based on preferences, an anesthesia workstation can be outfitted with a computer monitor, patient monitor, keyboard, mouse, scanner, pumps, lamp, printer, and other medical devices. That's a lot of equipment to fit in a relatively small space and mounting it all can be a challenge! Here are some mount considerations for safe, long-term usage of workstations and medical equipment.
Viewing angles for multiple users
Anesthesia workstations are required to serve multiple functions and different-height users during a day. There are patient monitors, EMR workstations, telemetry devices, and other hardware that must be carefully and securely fastened to the anesthesia cart. These carts must also be mobile, so surgical teams can confidently maneuver the workstation within a room or in rare cases between rooms.
GCX mounts provide maximum functionality, so surgeons and anesthesiologists can adjust multiple screens, devices, and keyboards to suit their needs. This improves workflows and reduces workplace injuries from technicians and physicians awkwardly viewing an image or telemetry reading on a monitor.
Testing options
One of the primary concerns with custom-configured anesthesia workstations is ensuring the cart won't tip during use is. GCX conducts safety testing according to IEC 60601-1 safety standards. A typical test will include moving IT equipment around, repositioning monitor arms and adding weight inside the drawers to confirm cart stability. All GCX tests are configured to manufacturers guidelines and weight limits.
Maximum channel space
GCX is a medical manufacturer – this means we work in and for healthcare facilities. As such, our channels, whether used by OEMs or sold directly to hospitals, are designed to maximize space. We need only a few inches of channel space to safely mount a full solution or single monitor on the anesthesia machine.
Our GCX channel design is known to be the global standard and even embedded in the architecture of some of the biggest manufacturers of anesthesia machines. We partner with multiple parties including patient monitor manufacturers, anesthesia machine manufacturers, and clinicians to ensure safe and stable surgical solutions. That's why they trust us to meet the needs of their customers.
Enjoy peace of mind knowing a cart meets industry standards and will remain stable whenever and wherever it is moved. To learn more about how GCX anesthesia solutions are built for safe, long-term usage please visit us here.