Collaborating with Smith+Nephew on a Surgical Robotics Cart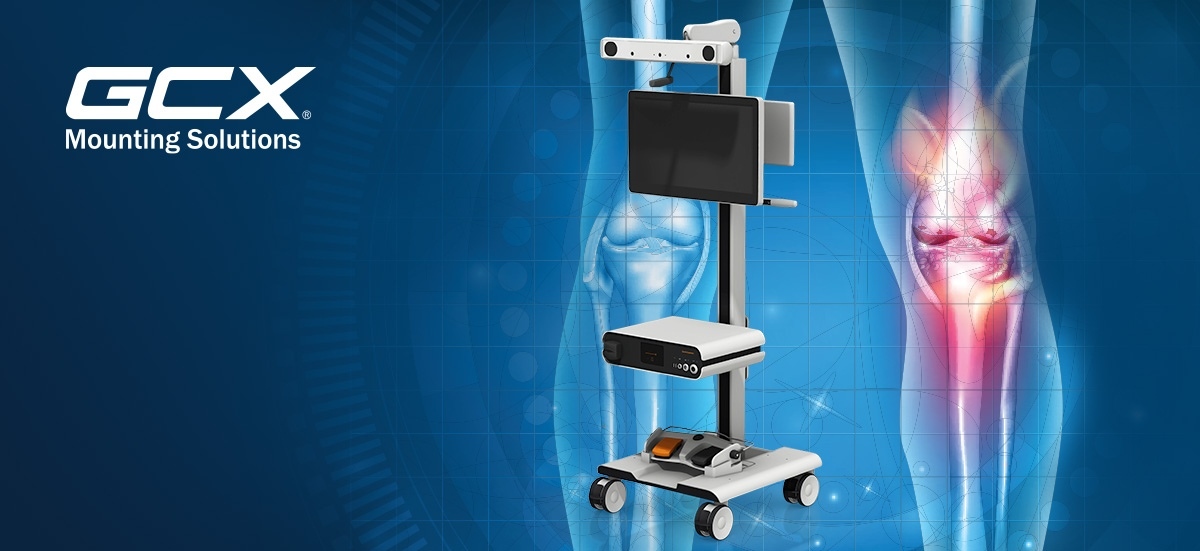 Orthopedic surgery is embracing more advanced technologies, like robotics. There is a growing demand to not only track instruments, but also use intelligent tools that can independently perform functions based on well-defined parameters and approved inputs during surgery. Until recently, products were developed with large, bulky footprints and limited maneuverability.
GCX recently teamed up with Smith+Nephew to design a modern cart to support robotic-assisted knee reconstruction procedures using the CORI Surgical System. The collaboration introduced to the marketplace a smaller profile solution that requires less space in the operating room. It is an ideal solution for ambulatory surgery centers and hospitals.
The program began with an evaluation of existing GCX parts that were slightly modified to optimize the physical workflow. As a result of design activities between Smith+Nephew and the GCX team, we developed a brand-new solution that leveraged a combination of configured products, along with some customizations. By taking this approach, we were able to save a significant amount of development time and money and delivered a world-class product.
This new surgical robotics cart includes:
Well-designed base and column sturdy enough to support dual screens, the robotic system, and a state-of-the-art camera.
User-friendly handle to facilitate mobility.
Convenient cord wrap for accessible cable management and infection control.
Flat panel mounting solution that rotates to provide an optimal viewing angle.
This project illustrates the collaborative partnership between an innovative, top medical device and implant manufacturer, Smith+Nephew, and GCX, where our expertise in the medical industry creates high quality, chemically compatible, and surgically reliable products.
Design: It's important that a manufacturing partner have a team of experienced product engineers that understands clinical workflows and the expected use to foreseen abuse that products experience in hospital environments. Medical devices need to be accessible to a variety of people, as unobtrusively as possible. There also needs to be special attention paid to how cables are managed for both safety and infection control. Smith+Nephew needed a smaller, more compact solution that was easy to operate and versatile. We were able to rapidly prototype and iterate a design to meet those needs.
Materials: Just as important as design and construction are the base materials. A trusted partner works with reliable materials that can withstand the expected use in the hospital. This allows a completed product to withstand rigorous reliability testing and sanitation protocols that more quickly wear down commercial-grade materials.
Culture of Quality: When conducting due diligence, OEMs need to have confidence that the partner they select can deliver on promises: both from design and production standpoints. Because this is so important, our own quality system is ISO 13485 certified. We respect our OEM partners' plans and can move quickly to develop and refine prototypes and then, put those approved into production at one of our factories. The Smith+Nephew surgical system cart went through numerous iterations before we identified a perfect fit to meet the company's needs.
Medical specialty: A key contributor to delivering the Smith+Nephew cart to market more quickly was attributed to our experience working with other companies to develop surgical systems and accessory solutions. We had parts to build on because we have devoted more than five decades to creating them while solving workflow problems through collaboration with our customers—both direct hospitals and our OEMs. Our teams understand medical device partners because they are our customers too. Specialization is what sets GCX apart from other commercial vendors in this space.
The total cost of ownership for Smith+Nephew was low, providing a perfect opportunity to leverage our core competencies instead of doing everything in-house. The company knew from the partnership's start that GCX would "own" product quality, which meant Smith+Nephew could deliver their new robotic cart solution for the CORI System to customers within a cost-effective package. GCX is equipped to scale as needed, which is important to meet sudden demand as a medical device gains popularity.
It's also worth noting that components on any surgical system for robotics and navigation require mounts that work properly at all times, supporting the equipment without drooping or collapsing during or while moving between procedures. Teams at GCX know this because we've worked with other companies that manufacture surgical robots. Not every medical-mount manufacturer can claim the same.
Call us today to learn how we can help your next project.