Case Study: Getting a Clear Picture of Compounding Areas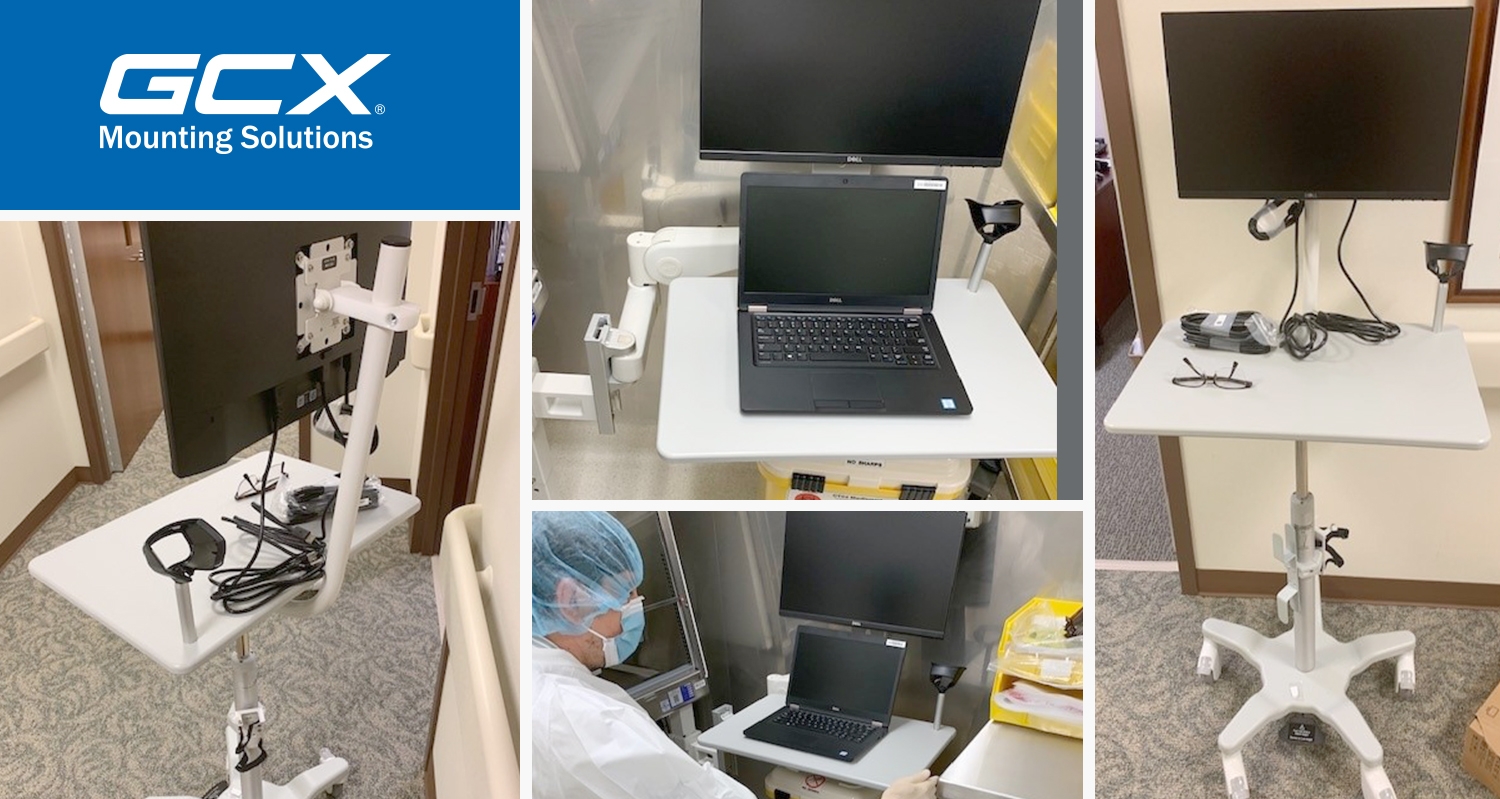 Leaders of a major health system based in Wisconsin and Illinois wanted to integrate photo documentation into their pharmacies' electronic health records. The new requirement and spatial constraints of their compounding areas presented some real workflow challenges, so the goal was to integrate EHR technology and a camera onto or around each room's Baker compounding hoods.
The challenge: Optimal camera placement and workflow
The clinical team brought GCX in to develop a solution for camera placement and improve clinical workflows in a tight space. Pharmacists needed room to draft documents and capture images of the medication, which was verified before being loaded into the EHR system and dispensed to the patient. The specified equipment also needed to meet their clean room requirements.
At first, the clinic considered drilling into the compounding hood, but the holes could compromise the structure's integrity. Complicating matters were workstations that used multiple compounding hoods.
Customer and pharmacist use case needs
Our GCX product development team designed and developed several prototypes based on the customer's wish list, which included:
A flat panel mount for the monitor to view the camera image from nearby mounted cameras.
A 16-inch-deep by 24-inch-wide laptop tray made of a smooth medical-grade surface to meet the needs of a clean room environment. Because this room and process had to be completely sterile, raw materials had to be medical grade.
A barcode scanner mount positioned upright on the tray, so barcodes could be easily scanned without manual assistance.
Height adjustability for multiple users.
Everything taking up minimal space in already tight quarters.
The solution: Custom mobile workstation built from standard components
Solution 1: Workstation Integrated to the Hood Leg
The first solution was applied to the Baker Sterilgard E3™ Compounding Hood. This configuration used a standard VHM-P arm with an HDPE (high-density polyethylene) laptop surface and a custom barcode scanner mount that held the scanner in an upright position so that no technician had to touch the device and risk cross contamination.
Solution 2: 'Pharmacy Workstation on Wheels'
The second solution was used on the Baker EdgeGard™ Compounding Hood. GCX created a "Pharmacy Workstation on Wheels" mobile unit that easily slips in and out of corners or against walls and provides ample accessibility for laptops and barcodes. Like the arm solution, this workstation also had an HDPE laptop tray and barcode scanner.
This project had physical challenges, but both the GCX arm and the mobile solution met the needs of the compounding clinics. We gained the clinicians' and pharmacists' approval by creating a product from standard parts that did not exist but could be easily assembled in our factory and thoroughly validated.
After design, development and production of this product, our GCX On-Site Service team visited Wisconsin to deploy these custom solutions in 28 different clinics throughout the healthcare system.
GCX partners with healthcare to create custom solutions from standard parts. With more than 50 years serving medical communities, we have the inventory and product expertise to quickly develop and deliver any mount needed—and that meets all physical and regulatory requirements. This allows clinicians more time to focus on what they do best: provide excellent patient care.
If you have a unique situation requiring a custom mounting solution, contact us at sales@gcx.com or (800) 228-2555.