A GCX Superpower: Knowing How to Save You Time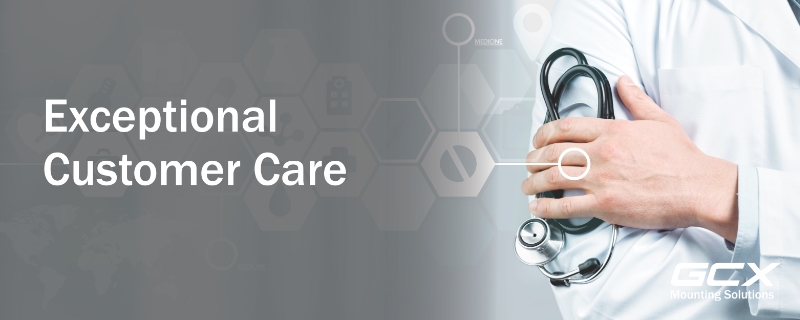 Our customers know GCX sells expertly designed quality arms, carts, and other mounting solutions to support today's healthcare professionals. Partnering with GCX can also save healthcare providers a considerable amount of time – a valuable benefit with today's staffing shortages.
Properly maintained ergonomic products. Our height-adjustable arms and workstations make it safe and easy for clinicians to access medical records and images quickly at the point of care. We also offer a preventative maintenance program ensuring optimal product performance and safe ergonomic use.
Made to be mobile. High quality casters and stability-tested configurations mean medical equipment can move quickly throughout your facility without tipping.
Rapid response times. We can turn around a sales quote quickly based on 50 years' experience in clinical settings and our strong OEM partnerships.
Continuity in customer support. Our customer care members and sales representatives know the healthcare industry and cover for each other, so you never have to wait for someone to return to the office.
We move fast, even on custom orders. Our extensive catalog of parts can be configured or customized for specific room or device configurations. Our specialty is taking a standard product and modifying it to meet your specific need.
Global footprint. With locations in Europe, Asia, and North America, we can reduce shipping times and associated costs by using regular containers transported between GCX locations.
Expert installations. Our GCX On-site Service technicians handle everything from unpacking and assembling products, installing devices, and discarding packaging. They also focus on providing clean installations including tidy cable management. It is not unusual for our OSS team to finish outfitting a room while the in-house IT or biomed team is still reading the instructions – it is that much of a time saver.
Durable and reliable. GCX products are built from durable materials specifically designed for healthcare settings. This means hospitals, health systems, long-term care facilities, and physician medical groups can enjoy years of use without the need to disrupt clinical operations to repair or replace a mount.
Working with GCX saves healthcare teams valuable resources so they can work on other projects. Contact us today and start saving time.